Helping You Get Published blog series
"The ABCs of Book Writing"
Most things, including book writing, begin with the basics . . .
This blog series is about those basics that apply specifically to creating a book. It is about how—at the most fundamental level, from A to Z—effective books are started, get written, and develop a better than-average-chance of successful publication.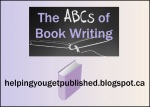 The series offers a mix of insights, reflections, personal anecdotes, and practical advice about creating a functional, commercially viable book. While there are all kinds of books (and diverse authors producing them), my aim is to focus on what is most likely to be the common experiences and demands that many authors face, regardless of their genres or intended readers. My wish is to smooth your progress along what I have observed to be the bumpiest stretches of road on the way to successful book writing and publishing.
This series, for emerging and re-emerging book authors, includes original infographics and other visuals. Follow it at: HelpingYouGetPublished.blogspot.ca.
The video below is just for fun. If only being a book author were this quick and easy! I have a lot more to say about the discipline of writing in my blog article "D is for DISCIPLINE" . . . Some of it might surprise you.